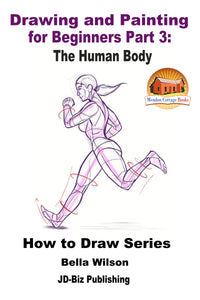 Table of Contents
Introduction
Chapter 1: Adult faces
Chapter 2: Children's and Babies' Faces
Chapter 3: Individual Features
Eyes
Noses
Lips
How to Draw Ears
Chapter 5: How to Draw Hands and Feet
How to Draw Hands
Drawing Feet
Chapter 6: How to Draw Hair
Chapter 7: Body Proportions - Bigger Shoulders or Bigger Hips?
Conclusion
Author Bio
Publisher
Introduction
As human beings, each one of us has a face that is unique to ourselves and to no-one else on the planet. It's true that each of us has two ears, two eyes, a pair of eyebrows, a nose and a mouth, but that's where the resemblance ends. There are an infinite number of variations on this basic theme, and even a tiny fraction of an inch in the size of each feature can make a difference to our recognition of one person from another. Our brains are so finely tuned to recognizing faces that they even see them where they aren't there! Several people have reported seeing the face of Jesus in a cheese sandwich or the face of Abraham Lincoln in a stain on the floor. 
But within the human race, although the variety of individual faces is enormous, there are certain proportions and characteristics which are common to all of us. 
Let's take a look.