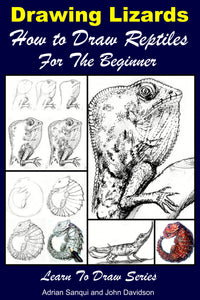 Drawing Lizards - How to Draw Reptiles For the Beginner
TABLE OF CONTENTS
Introduction
Drawing Tools
Drawing with Pencil
Examples:
•Nose-horned Lizard
Establishing the Details
Examples:
•Tuatara
•Casqued-Headed Lizard
Drawing with a Pen
Examples:
•Frilled Lizard
•Double-crested Basilisk
Coloring
Examples:
•Armadillo Girdled Lizard
•Leaf-tailed Gecko
•Chameleon
Conclusion
INTRODUCTION
First of all, thank you for picking up this book on Drawing Lizards. Throughout this book, you will learn some valuable tools to assist you in learning how to draw reptiles. Follow along, step by step, to get the most out of this eBook. Let's get started!