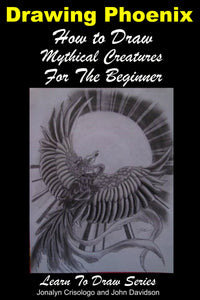 Drawing Phoenix - How to Draw Mystical Creatures For the Beginner
Table of Contents
Introduction
Part I | General Facts and Fiction
Folklore, Myths, and Legends
Religion and Spirituality
Pop Culture
Music
Film
The Gospel of the Phoenix and the Phoenix Principle
Part II | How to Draw the Phoenix
Drawing Tools
The Drawing Process
Setting a Creative Intention
Drawing in Layers
Rendering
Basic Rendering Exercises
Drawing in Layers
Lines, Shapes, and Gesture Drawing
Form Construction
Detailing
Shadowing, Blending, and Building Contrast
Glossary
Introduction
The legend of the phoenix appears almost in every culture: A mystical bird (usually associated with a woman) who takes off to the heavens in a fiery blaze.
The character has probably been most famous by the animated comics and animated series X-Men. Later turned into a film, Jean Gray's allure and superb psychic powers are put in the spotlight when she magnificently transforms, unleashing her true potential as the prophesied Phoenix.
The Phoenix is associated with great power, and it is because of the massive potentialities she is endowed with that the battle between good and evil ensueswhere good hopes she could tame the power, but evil intends to take control and use it to further spread malevolence. 
The third of the How to Draw Mythical Creatures series, Phoenix takes on another mystical exploration. The first part tackles historical and mythical accounts on the existence of such a creature.
The second section provides basic drawing essentials designed to instruct the absolute beginner. Prior to focusing on the subject at hand, you will have the opportunity to equip yourself with rudimentary basic processes. Included is a discussion on rendering, which will guide you on how to establish lighting, contrast, and shadingtopics among which can be intimidating for the novice. 
Without further ado, I welcome you to join me on this mystical adventure. Welcome aboard!