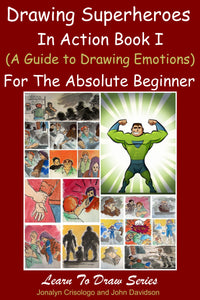 Drawing Superheroes in Action Book I (A Guide to Drawing Emotions) For the Absolute Beginner
TABLE OF CONTENTS
Introduction
Drawing Tools
Expressing Emotions in the Comic Cosmos
Head
Constructing the Head
Facial Features
Eyes and Brows
Mouth
Nose and Ears
External Elements
Universal Stereotypes
Perspectives
Hands
Body
Putting it all Together
The Storyline
The Characters
The Narrative
The Drawing Process
Developing
Drawing
The Comic Strip
PAGE ONE
PAGE TWO
PAGE THREE
An Analysis
Glossary
The Author
Introduction
Superheroesand villainslove to be where the action is. They do not just sit still in the background watching a gripping tale unfold. When villains strike, superheroes must come out of hiding and bust crime.
Now that we have learned how to create well-rounded superheroes, it is time to construct the comic cosmos they live in and weave action-packed stories, narrating their heroic feats.
Drawing figures in motion involves two aspects: emotions and body movement. Although they are usually connected (such as an emotion triggering a movement and vice versa), we use the former more often than the latter to respond to stimulus. Emotions are the nucleus of our drawings that we build from. 
As earthlings, we hardly exert effort for others to determine our moods accurately. We can silently walk into a room and people can tell exactly what we are feeling. Even without the slightest movement, we can perceive emotions effortlessly.
However, the comic cosmos works differently. If we drew a man with a broad smile on his face as he prances into a battlefield, he would be completely out of place. His apparent mood does not suit the setting in any way. 
It does not end with facial expressions. A single panel can contain more than a handful of expressive elements to induce the appropriate mood. What are these elements? How do we use them? When do we use them? How many do we have to use? 
In Drawing Superheroes in Action Book I (A Guide to Drawing Emotions) for the Absolute Beginner, we shall explore these elements and equip ourselves with the fundamentals of effectively illustrating feelingsand establishing the right atmosphere in every panel.
Towards the end, we will glimpse the basics of story writing and put our skills to the test by crafting our very own comic strip.
Enjoy the journey ahead!