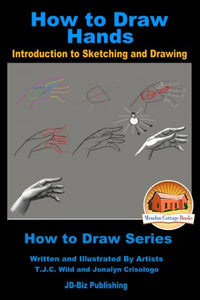 How to Draw Hands - Introduction to Sketching and Drawing
In this book we are going to talk about how to draw hands. We're going to see how to capture the complexities of the hand and draw them on paper, a canvas, or anything you can possibly imagine, you're the artist after all
Table of Contents 

Introduction: Hands 
Supplies needed 
How to study and prepare for drawing 
Proportions 
Shading 
Color 
Different Hand Exercises 
Blind Contour Drawing 
Drawing Techniques 
Grid 
Blocks and Cylinders 
Contour Drawing 
Gesture Drawing 
Rendering 
Publisher 

Introduction: Hands 

Our hands, they can be quite a useful thing in everyday life; from eating to typing, drawing, writing, and also they can be a way to express ourselves. 

Sadly many take hands for granted both in having them and in drawing them, many starting artists think they are easy and something they will land the very first time, but unfortunately very few, if any, are an art genius from the start. I have seen many starting artist hide the hands of the person in their art piece, behind the back, in their pants pockets, etc. If you think about it you may have played this trick before as well, probably one of the reasons you need this book. But do not worry or fret it might take a little bit of time topped with some good old practice to draw this vital part of the human body. 

Hands can be difficult because they can assume hundreds of different shapes and positions with a very complex muscular and skeletal structure in them. Not to mention the angle at which they are viewed will change the whole process of drawing them. 

In this book we are going to talk about how to draw hands. We're going to see how to capture the complexities of the hand and draw them on paper, a canvas, or anything you can possibly imagine, you're the artist after all!