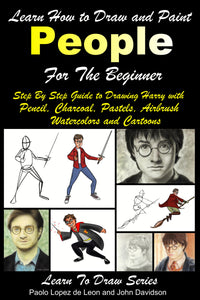 TABLE OF CONTENTS
Introduction
Materials
How to draw a Harry Potter Cartoon:
Drawing Harry's Body:
DrawingHarry in different poses:
Light source and Cast Shadow:
Cartoon Eyes:
Other Characters and Creatures:
A.Phoenix
B.Severus Snape
C.Blue Pixy
D.Grindylow
Various Gags and Caricatures Cartoons:
The Basics:
•Sphere
•Cone
•Cube
•Cylinder
How to render a Harry with pencils:
Charcoal Painting
•Shaving the Charcoal
•Rendering Using Charcoal
•Tips to Remember
Rendering Harry Potter in Charcoal
Learning about Colors
Pastel Painting
•Shaving your Pastels
•Various ways to blend using Pastels
•Additional Techniques:
Rendering Harry Potter in Pastels:
Watercolor Painting
How to Create Color Value Chart
Application and Techniques in Watercolor
•How to Use the Paintbrush
•How to Mix your Watercolor
•How to Create a Wash
•Rendering the Sphere
•How to color Sphere using two colors and blending technique
Painting Ginny and Harry in Watercolor
Airbrush Painting
•Airbrush cleaners and Alcohol
•Airbrush and its Mechanism
•Maintenance and Troubleshooting
•How to Hold an Airbrush:
•Basic Airbrush Exercises:
Airbrushing Harry Potter
Author Bio
Introduction:
I knew you had read the book, saw the movie, and even bought merchandises of our young favorite wizard from Hogwarts (alright, I know it's the school of witchcraft and wizardry and not the place which can be found in the map), but have you consider to learn how to draw Harry Potter in pencil or in any art mediums, and this eBook is all about it,so before we begin, let me congratulate you for picking up this eBook, as I'm going to teach you how to draw Harry from cartoon to another form of art works: pencils, charcoal, pastels, watercolor and even airbrush, yes you heard me right.
So what do you need learn these artworks?Simple I listed the things you need in the materials, they can all be found in any art stores or art suppliers, so visit and check for the availability of the materials, and it also nice to make friends with your art supplier, as he would be happy to assist you for the things that you will be needing, and even give you a call if the materials if in stock or available. 
Dedicate by reading and practicing all the exercises in each sections of art medium, set a good time for you alone and focus in drawing and soon you will be a true versatile artist not just drawing Harry Potter, as you can use this method when drawing other people faces,even the faces of your love ones: parents, relatives, friends, neighbors and boyfriend/girlfriend/husband/wife. So have fun drawing Harry Potter, let him inspire you magically.