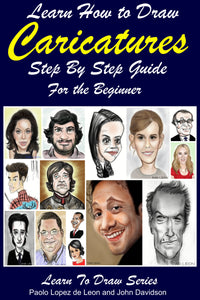 Learn How to Draw Caricatures: 
Step By Step Guide For the Beginner
TABLE OF CONTENTS
Introduction:
Materials
Starting with Caricature
The Face
More about the Face
Sections
I.The Hair and Forehead
•Drawing the Hair
•Different Hairstyles
II.The Eyes and Eyebrows 
•Drawing the Eyes
•Drawing the Eyebrows
III.The Nose, Cheek and Ears
•Drawing the Nose
•Drawing the Cheek and Ears
IV.The Mouth, Teeth and Chin
•Drawing the Mouth
•Drawing the Teeth
•Additional (Tongue)
•Drawing the Chin
V.The Neck, Shoulders and the Clothing
•Drawing the neck and shoulders
•Supplemental Lesson:
Drawing Caricatures Step by Step
Author Bio
Introduction:
First of all thank you for picking up this eBook, and I know that you are eager to learn how to draw a caricature, and you come in a right path for choosing this. Let me share to you how I begun drawing caricature, I was inspired one day when I was in the mall, I saw how the caricaturist finished a caricature of a couple and seeing them with a smile they are so glad of what the artist had done( and also the artist who just receive the "dough"), I also notice that the caricature drawn was very simple but catches the features that are good to exaggerate, on that moment on, I find ways to learn the art and practice this art and also to earn my living, and the result is this eBook that I'm sharing to all of you now.
As we know Caricature is unique compared to other forms of art, because like a portrait or any other pictures the focus are different as you're seeing them funny or humorous as sometimes oppose to reality. A subject with extraordinary full eyes will be caricaturized with large bulging eyes as it's received an exaggeration touch, another one, a kid with a buckteeth will be transformed with a larger set buckteeth twice its original size, lastly a man with a small sets of eyes when caricaturize will have a thin lines as his eyes is almost visible making the other features more dominant. See that's how we exaggerate in caricature, the only thing you should avoid in caricature is making the small features look big, as it will make your subject hard to recognize, and you don't want that to happen.
The eBook will guide you from start to finish, I divided the Lessons by sections for you to easily understand, and a real application of what you learn after you read all the sections here, you will be confident to draw and apply all that you learn from here, and I'm very sure you can do it.