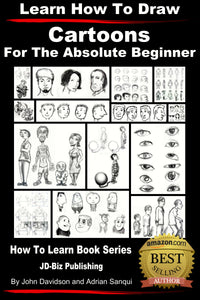 A quick and easy way to illustrate an idea is by using cartoons.
Artists use this kind of theme when targeting young viewers or those who's a little less of art critic and more into the message of the picture being portrayed clearly.
Cartoons are "eye candies" that can easily capture people's attention because of its stereotypical and simply understandable nature. This is also the reason why it is widely used by advertisers when presenting a service or a product.
This book will teach you how to start drawing your own cartoon characters in a semi-realistic form and how to finish your illustrations easily. It will show you how to produce a traditional quality cartoon drawings and the fundamentals of illustrating your ideas properly.
This step-by-step instruction manual is a great start for beginners and an additional knowledge or guidelines for amateur illustrators.
Learn the very basics of cartoon and start making your own comics or detailed illustrations. Find out how to make a variety of different facial features to improve your characters' appearance. Turn your thoughts into pictures and explore your creative side while having fun.
TABLE OF CONTENTS
INTRODUCTION
TYPES OF CARTOON
ELEMENTS OF A CARTOON
•Large Heads
•Body Proportions
•Props and Objects
EXPRESSIONS
•Additional Details for Portraying Cartoon Expressions
FACIAL FEATURES
•Eyes
•Nose
•Mouth
•Ears
DRAWING A SCENARIO
AGING YOUR CHARACTER