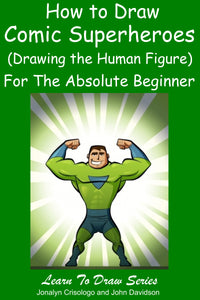 Learn to Draw Comic Superheroes (Drawing the Human Figure) For the Absolute Beginner
Table of Contents
Introduction
Drawing Tools
Understanding the Human Body
Proportions
Female Versus Male Proportions
Head
Proportions
Tilting
Hands
Feet
The Character Concept
Superhero Anatomy Tips
The Drawing Process
Lines, Shapes, and Gesture Drawing
Form Construction
Contour Drawing
Glossary
The Author
Introduction
The Caped Crusader and Man of Steel stand in the front line, flanked by some of the most lustrous names that have saved mankind from malevolence, corruption, and catastrophe. The image conjures heroic, gripping tales filled with crime-busting action. Comic book in hand, you turn each page, admiring the colorful graphics. You cannot help exclaiming, "I want my own superhero!"
In the past couple of years, film-goers and couch potatoes have witnessed the revival of the world's all-time favorite heroes. Ditching their capes and bright-colored spandex for trendier, fashionable costumes, they have re-conquered film, television, and print.
But to call this a renaissance is an overstatement. In reality, superheroes have always been around. They might have underwent a face-lift, found the perfect guise to go on hiding, or passed on the job of protecting mankind from one generation to another. Fact is, superheroes exist in every generation. Odysseus of Ancient Greece. King Arthur and the Knights of the Round Table of the Medieval Age. Justice League of the '60s.
Everybody loves a hero. So, why not create our own superhero?
Unless you have been gifted with the knack for drawing, you have long realized that it is not as easy as jumping into your desk armed with a pencil, and putting onto paper each scene that comes to your mind. Frankly, to bring a superhero to life, you will find that two heads "might" be better than one. For instance, Jerry Siegel and Joe Shuster are credited as the original creators of Superman. Bob Kane and Bill Finger for Batman. Joe Simon and Jack Kirby for Captain America.
If you ever visit the DC or Marvel headquarters, there are more than a handful of people who work on a single comic book. You will meet the writer, artist, letterer, and the editor. Each drawing per se requires at least three people: the penciler, inker, and colorist. We will particularly focus on one role: the artist as a penciler—or, simply, The Artist.
As The Artist, you will notice that the comics cosmos is divided into two: the two-dimensional and the three-dimensional. Whichever path you choose, there are certain creative, artistic rules you need to abide. These rules—also referred to as the Science and Math of Art—can be summed up as The Basics of The Superhero Anatomy. 
Equipped with the simplest of tools, we shall explore the fundamentals of drawing the human figure: anatomical composition and body proportions. Do not fret. As you will learn along the way, these are the core of exemplary artwork. Most importantly, it is only when you know the rules by heart that you can learn to break them. Eventually, you will set the pace for yourself, molding out diverse characters—without disfiguring them unnecessarily.
Once you have learned the rudiments, we will take on basic drawing techniques to bring your superhero to life.
Welcome to the world of superheroes. And may the force be with you!